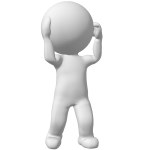 Today I discovered a major screw up that has potentially cost me numerous affiliate sales and thus commissions over the past six months.
I was checking the back end of a site in FTP and I thought a particular folder (containing a redirect page) was in a rather curious place.
Namely not in the public_html folder where it should have been for everything to function smoothly.
Instead it was ABOVE that folder, meaning any link pointing at it would result in an error page.
I quickly moved it to where it should be, but first I went to the page and clicked on a link that used the folder in question.
Sure enough, I got a big fat error page.
I finished moving the folder, hit the back button and clicked again.
This time, thank goodness, it worked and the sales page loaded. Phew…
What prompted me to look at the site in the first place was that when checking my page stats (I use Statcounter) I noticed someone had visited the site, which was ranking number 10 in Google for whatever they searched on (these days Google won't tell you half the time what people were looking for 🙁 ).
On a whim I decided to look at the site, because I couldn't remember how many pages it had and I just wanted to remind myself.
Thank goodness I did!
It just goes to show, you can't be too careful.
Normally I test such things, and I cannot for the life of me think why I did not on that occasion.
Oh well, lesson learned.
Have you done silly little things like this that have probably cost you money?
Leave a comment and tell me – and other visitors – what other pitfalls you have discovered that we would all do better to avoid!